Waha SE also provides security for personal digital contents, including but not limited to unpublished articles, songs, art works and software. Personal solution: When creating a security envelop for personal digital contents, you can set security codes (private key), reading time and re-name of the secured envelop as you wish.

One-way authorization: To read or open the secured envelop, the receiver can only act according to the criteria set by the sender. These criteria can be set as read only, no copying, saving or printing, and even no print screen. Once the reading time is up, the documents in the secured envelop will be deleted automatically to avoid unauthorized uses of the contents.

Anti- plagiary: Waha SE can also protects digital contents of personal desktops from being plagiarized. Once incorrect codes (or golden keys) are detected, automatic deletion of the contents in the secured envelop will be performed, leaving no chances for the secured contents being plagiarized by those plagiarists.

No limited by the types of documents to be protected: The Waha SE can protect any formats of digital contents you might have in your computers. The digital contents can be word documents, photos, art works, songs, and even mathematical formula (Note: the individual version of Waha SE does not have this function).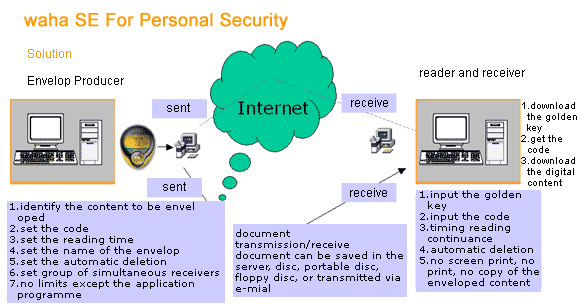 waha SE for both personal digital content security management as well as for document management of small-sized enterprises
Waha SE Personal Digital Content Security Management Principles
| | |
| --- | --- |
| provide security attestation. | automatic deletion default |
| authorize the reading continuance and times. | 128Bits code setting |
| no limits on documentís type. | Devices simultaneous and off-line authority management. |
| prohibit unauthorized copying, saving, printing or screen printing. | |
| envelop transmission to groups of receivers . | |
| PKI management of public and private keys. | |
| authorize online and offline reading. | |
waha SE Digital Content Producer V.S Receiver
TYPE
FILE MAKER
RECEIVER
HARDWARE

CPU:PIII-500,RAM:128M, HD:2G &better

CPU:PIII-500,RAM:128M,
HD:2G &better

OPERATING SYSTEM

Win2000/XP/2003Server/ NT

Win2000/XP/2003Server/NT
VIDEO CARD
Color Quality >16bit
Color Quality >16bit
DIGITAL CONTENT DOCUMENT PRODUCE/RECEIVE
Produce the envelop in any document type
Receive envelop in any document type, and open it with the OS default application.
PRODUCE THE ENVELOP OF THE SAME DIGITAL CONTENT
Produce the envelop after changing the initial document name
WAYS OF TRANSMISSION AND RECEIVING
Mails, Portable Discs, Instant Messagers, Servers etc.
Mails, Portable Discs, Instant Messagers, Servers etc.
TRANSMISIION AMOUNT
P2P/Group transmission
Receiving: P2P/Group transmission
CODING/DECODING
Code/Private Key Document
Code/Private Key Document
READING TIMES
To be set
Just once
READING CONTINUANCE
To be set
Read within the time continuance authorized.
AUTOMATIC DELETION
Default
Automatically delete the document after it has been read.
READING CONDITION
Read only, no copy, no print, no Screen print. Temporarily close any other programmes while reading.